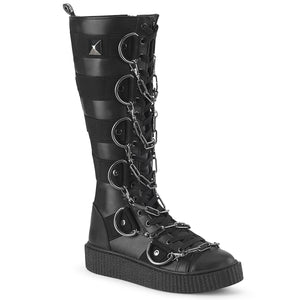 SNEEKER-405

Blk Vegan Leather-Canvas

Item # (SKU): SNK405/BVL-CA

1 1/2" (38mm) Platform Rubber Sole Round Toe Lace-Up Front Knee High Creeper Sneaker Boot Featuring Stripped Contrast Side Panels With D-Rings and Removeable Hanging Chain Details, Oversize Pyramid on the Sides and Up the Back, Full Inner Side Metal Zip Closure Closure

Size: Men's 4-13

ALL SHOES (unless advised they are in stock at HQ in Christchurch) come from my supplier in Los Angeles, California. The usual turnaround time is 15-20 days delivery (average time) within New Zealand.
-----------------------------------------------
** COVID UPDATE as of 26th May 2021** As all shoes are coming from the USA where they are still experiencing lots of covid related delays, this is having an on flow effect with supply to NZ. Please allow extra time as there are dispatch delays from Pleaser USA and international freight/shipping times have been varying since covid in 2020 due to the huge worldwide changes in online sales behaviors. The average time currently is 20-30days for delivery to me in Christchurch.

I do use FEDEX which is a premium freight service out of the USA for the fastest shipping possible.

Covid has also been causing issues with stock availability, so if an item you have ordered is back-ordered or out of stock for any reason, I will contact you as soon as possible to advise.

Once the items arrive in Christchurch and are dispatched/collected by the courier, the system will advise you of your tracking details for delivery.

Many thanks for your continued support
Bonita xxx
-----------------------------------------------
Other items that are in stock in our warehouse in Christchurch are usually shipped within 2-3 working days from payment being received.
View our full Shipping & Delivery details here
All Pleaser, Lucious and Devious shoes are marked in U.S. women's sizing, while Demonia shoes are marked in either U.S. women's or U.S. men's sizing. The shoe size conversion chart below only serves as a guide to help you determine the sizing equivalent of our products in different parts of the world. Please note that the actual sizing may differ slightly from the chart as the size conversions listed are APPROXIMATE - there is no universally accepted international conversion for shoe sizing; it may also vary slightly from collection to collection among our different brands. View chart here